Hey, y'all. It's been a while since I posted on my blog so I finally had some time this weekend to do it. I have been REALLY busy getting things ramped up for 2020 with my company. I quit my job on January 10th and I couldn't be happier, but now it's like I really want to make this happen. You are going to see some new things from me, and some of those things have already launched (a brand new look to my website for example). I will be putting myself in front of the camera more, and I will be doing more free masterclasses. Yes, that is right, more masterclasses and even some in-person training are coming in 2020.
I have decided to be completely intentional with everything I am doing for 2020, and that means that I just cannot continue to take any more crap from anyone. Not from an ex, not from a toxic work environment and not from my own personal issues I am dealing with. I am DONE. I do have to give a little bit of advice to everyone: don't let anything or anyone get in the way of your happiness. When you are not happy, you will not give the best you can in any relationship or any job experience. Please choose happiness over money. Don't be miserable because that shit spreads like a plague, and everyone else around you will become miserable. You will live in it as it just eats away at your happiness like the dementors in Harry Potter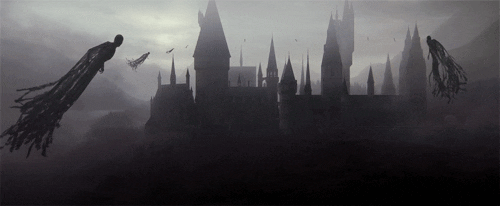 Don't let this happen to you! You are a wonderful, kind, beautiful, mystical being that deserves to shine and your happiness should ALWAYS come first in your life. It took me a while to finally realize that in the past decade. A lot has happened to me in the past ten years, and I have got to say I have turned a 180 from the person I was in 2010 to the person I am in 2020. In 2010, I was a meat-eating runner in college that was living off of potstickers and Subway, begging for internships in social media in a town that was not really on the cutting edge. Now, I am a vegetarian/pescatarian cycler that lives in the Atlanta metro area and owns my own company doing social media strategy for women business owners that I align with!
I've gone far beyond my comfort zone and really pushed myself to network with people. I forced myself to go to networking events and make new friends, something I really struggled with back in 2010. I have developed a pretty large network because of it, and I can now go up to strangers and start talking! Personal growth and business growth go hand in hand. When I first started my business, I really did not think it would take me on this journey of self-discovery, but I love it. The sacrifices are worth it! Putting yourself out there is so scary, and it does take baby steps but you will definitely see how far you've come when you take those little steps every single day. You will not believe how long it took me to do a Facebook Live, it took me MONTHS, but I did it, and now I wanna do more!
Fear is just a little thing in your head that tells you that you can't do something. Don't listen to that voice and follow your gut. Cause it's probably right! It's actually when I don't follow my intuition or the messages from my guides, or what I get when I meditate with my crystals that I don't get aligned with the right people. You have to do you at the end of the day, and when you do you, amazing things happen! When you are aligned with the right clients, the right people, the right companies, the right kind of money that will set your soul on fire, you will manifest greatness. I am in the middle of manifesting the shit out of my life right now, and I really hope you are too! I am now offering some spiritual guidance to your life along with my social media brand coaching.
Are you ready to make 2020 the best year of your life? You really want those dream clients, those people that can really help you, get connected with those relationships, and get you on the path you need to be on social media. Whether it's branding, social media, or just need some coaching done, I can help! Let's get on a call to talk about your brand goals this year! Schedule your free call with me right here.